Jurassic World: Dominion Dominates Fandom Wikis - The Loop
Play Sound
"I did not believe this place was real, Senhor Mater."
—Carla Veloso, Cars 2: The Video Game

Carla Veloso is a Brazilian race car who takes part of the World Grand Prix.
History
Cars 2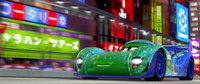 In Cars 2, Carla is a Brazilian race car who competes as the only female racer (similar to Misti Motorkrass), the #8, for the World Grand Prix. She is seen in all three races and also in the one at Radiator Springs. She finished third in the Tokyo race, and was also seen in the Porto Corsa race in the third position. However, during the Porto Corsa race, Carla's engine blew out, due to Grem aiming the Lemons' modified WGP Camera at her. In London she was seen in the back in 8th place. After passing through the Admiralty Arch she was seen in 9th place, in front of Raoul ÇaRoule and Rip Clutchgoneski. She was seen at the Radiator Springs Grand Prix race, talking with Shu Todoroki. During the race she was seen in 3rd place like usual however her position dropped to 4th due to Mater passing everyone with his rockets.
Cars 2: The Video Game
In Cars 2: The Video Game, Carla is a playable character, unlocked once access to Clearance Level 2 is granted. She is a medium weight, and has more speed than she does power.
Disney Infinity
In Disney Infinity, Carla can be seen as an opponent during races in the Cars Play Set.
Cars: Fast as Lightning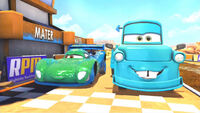 Carla appears as a playable character in Cars: Fast as Lightning, unlocked by earning all of her stickers, which can be obtained by completing all of Miguel Camino's races. She has four additional paint jobs, Carnaval, Quente, ICE and Neon Carla, all of which can be unlocked by completing practice races at Carla's Track, obtaining all of their corresponding stickers. She has her own home, Carla's Pit, which is also where she parks in the player's town.
Other appearances
In A Friend in Trouble, Carla and her team have noticed that their equipment has gone missing, so she and Lightning team up to find them. They find the objects, but also receive help from other competitors and teams.
General information
Physical description
Carla is a 2009 Le Motor Prototype B12 Racer according to Meet the Cars. She is powered by a 5.5 liter twin turbocharged diesel V-12 engine with 725 HP. She can accelerate from 0-60 mph in 2.8 seconds and reach a top speed of 206 mph (175 mph according to the Cars 2: Essential Guide book).
. Given that Carla represents a Le Mans Prototype coupe built in 2009, her design closely resembles a Lola LMP1. Her vehicle type name is a reference to the 2012 Lola-Drayson B12/69 EV which its chassis name is B0960-HU03. With this in mind, she is based on the 2009 Drayson Racing Lola B09/60 Judd. Her rear exhaust pipes look like the ones seen on the 2006 Audi R10 TDi which makes her engine a reference to this Le Mans Prototype as well.
Carla is a glittery car painted green and blue, with a large blue spoiler sporting the World Grand Prix logo on it. She has blue splitter at the front which helps create downforce. She has blue 12-spoke rims, as well as grey and orange headlights. The three dots on her sides are LED lights, which are commonly seen on endurance sports cars. Her roof features an air intake.
Personality and traits
This article or section is under construction.
This article or section has been marked as being under construction, indicating parts are unfinished or inaccurate. Please help contribute by adding photos and information, correcting mistakes, and improving the overall quality.
Although Carla is a friendly competitor, it reveals in Cars 2: The Video Game that she can play dirty when the player makes her side-bash another car.
Appearances
Profiles and statistics
Cars 2
Bios

"Carla hails from Rio de Janeiro, Brazil where she's been known to dance the night away at the famous 'CAR-nival' but nothing makes her happier than being on the racetrack. Carla was drafted into the 24-hour endurance racing team in Europe after setting a new track record on her local circuit. Now, in the World Grand Prix, this proud Brazilian Le Motor Prototype racer, wearing #8, is the only female in the field."
Cars 2: The Video Game
Bio

"From the Car-nivals of Rio de Janeiro, Brazil comes Carla Veloso. This extravagant racer set a track record at the local Interlagos circuit, joined the European 24-hour endurance racing ream, and has won many trophies around the world."

Stats

Weight class: Medium
Speed: 65
Power: 35
Torque: 0.66666666666
Nitro: 20
Cars: Fast as Lightning
Portrayals
Gallery
For this subject's image gallery, see Carla Veloso/Gallery.
Quotes
Cars 2: The Video Game
"That was not so nice!"
"The view from here is amazing!"
"Ah, you carro ruim!"
"Hello, boys."
"Ai! Does your mother know you hit ladies?!"
"Hmph. I can play dirty too!"
"Isso mesmo!"
"This will be super legal."
"No, no, no, no, no!"
"That was not pretty."
"Beleza."
"Smooth and simple."
"Do you really want to fight with a lady?"
"Ai! Que pena."
"How wonderful!"
"Ótimo!"
"Cool."
"Ai!"
"Hmm, they saw us next time."
"I need a plan."
"So many surprises."
"One mission down! Next mission should be to make everyone earth-friendly."
"Tchauzinho!"
"Até mais!"
"So sweet to let me pass! Mwah."
"What? You do not let the ladies go first?"
"I hope you boys are ready for this."
"Let's do this!"
"This is intense!"
"I need to focus."
"Are you sure you should be racing?"
"No, no! This is a race, you are supposed to go fast!"
"Maravilhoso!"
"I learned this on the dance floor!"
"You're lucky I'm on a good mood."
"You've been asking for this."
"This is for all of the times you have been mean and evil!"
"So, it has come to this!"
"I don't like to resort to brute force, but..."
"Adeus, until we meet again!"
"Stop, Stop!"
"Ai, que demora."
"Oh, which way is which?"
"Foi mal."
"Oh, this time, I am ready!"
"Ah, I better avoid that!"
"No!"
"I do not know, but he sounds strong and handsome."
"You are going to hurt yourself trying to beat me."
"You are so cute trying to be so fast."
"After this, I shall throw a party celebrating my win!"
"Ooh, that was very close."
"I did not believe this place was real, Senhor Mater."
"Oh no, do not mess with me when my RPMs are high!"
"Sorry, I'll drive better next time."
"Ooh, sorry, sorry!"
"Now I have you in my sight!"
"Oh, I can turbo now yes?"
"I love the turbo power!"
"Time to do some racing tricks, no?"
"Ha, ha! Yes!"
"Tchau!"
"Off I go! Ha, ha, ha!"
"Ha, ha, ha! What a rush!"
"Very good."
"Oh no!"
"I hope you don't sleep too badly."
"Hey, you are on my team!"
"Thank you for the boost, my friend."
"There is one spot in the winner's circle!"
"This is how Carla does it!"
"I have a present for you!"
Names in other languages
Polish: Carla Turbinha
Russian: Карла Гоньяло (transcription: Karla Gonyalo)
Trivia
In the Brazilian version of Cars 2, Carla replaces Jeff Gorvette and becomes the car Lightning McQueen meets along with Lewis Hamilton at the World Grand Prix opening party. Unlike the English versions, her speaking role expands. In this dub, her performer is the singer Claudia Leitte.

Also, in said dub, McQueen calls her by nickname, "Carlinha," which means "Lil' Carla."

According to concept art, Carla was first a German LMP named Marlena Wolfsburg. Her named then changed into Sonia Santana at some point in development and then Carla Veloso.
Carla Veloso is based on the 2009 Drayson Racing Lola B09/60 Judd although she also resembles a 2008 Speedy Racing Team Sebah Lola B08/60, and a 2009 Lola-Aston Martin B09/60.
While being based on the same manufacturer but not the same model, B12 is name of the Le Mans Prototypes introduced by Lola in 2012. This includes B12/60 LMP1, B12/80 LMP2, and the Drayson B12/69 EV.
In Cars 2: The Video Game (the DS version only), Carla's engine is exploded by Grem at the Paris race.
Coincidentally, Carla is also the eighth model (just like her number) in the Cars 2 die-cast number listing.
In Kinect Rush: A Disney/Pixar Adventure, the player as a car is the same model as Carla Veloso if the player is a female.
In Cars 2: World Grand Prix Read and Race, the first racing car has the same body as Carla Veloso, but is blue instead of green.
In Lightning Speed her last name is accidentally misspelled as "Velosa" instead of "Veloso".
Carla is the only female racer in the WGP.
Her pits in Porto Corsa incorrectly has the flag and surname for Rip Clutchgoneski rather than hers.

Shu and Carla are the only Le Mans racers in the World Grand Prix.
Her pitties' model are same as Alex Machino.
Cars 2: The Video Game
C.H.R.O.M.E. Missions
Unwelcome Aboard

•

In Plane Sight

•

Fast Friends

•

Airport Invasion

•

There's No Place Like Chrome

•

Oil Rig Showdown

•

Hit the Road

•

World Grand Prix

•

Runway Invasion

•

Porto Corsa Invasion

•

Objects in Mirror

•

Airport Showdown

•

Burning the Midnight Oil

•

Coastal Invasion

•

Runway Runaway

•

Harbor Hassle

•

Power Surge

•

London Showdown

•

Foe Interior

•

Hit or McMissile

•

Unfriendly Competition

•

Air Power

•

Rush Delivery

•

Italy Showdown

•

Tokyo Invasion

•

Save the Queen

•

Sour Lemons

•

Lightning the Mood

•

Home Security

•

Tokyo Showdown
Further info
Beta elements

•

Staff