Jurassic World: Dominion Dominates Fandom Wikis - The Loop
Play Sound
Davey Apex (referred to in the Diecast Line as Dave Alternators[1]), is one of the three racers for the Re-Volting racing team in the Piston Cup Racing Series, along with T.G. Castlenut and Aaron Clocker. He is a Crown Celesta that is painted red, black, and white. with the number 84 painted red and white on his doors and roof. He has the Re-Volting logo on his hood. Re-Volting fires Davey Apex and replaced him by T.G. Castlenut in between the events of Cars and Cars 3 and was given a new team number but was fired and replaced too by Aaron Clocker.
History
In Cars, Davey is seen racing at the Motor Speedway of the South against the likes of Lightning McQueen, Strip Weathers, Chick Hicks and many others. When Chick Hicks causes a huge accident in hopes of leaving Lightning McQueen in the dust, Davey is one of the first cars to be hit, and suffers some minor damage, noticeably, he is hit by Kevin Racingtire, then Manny Flywheel.
Profiles and statistics
Cars
Bios

"Davey Apex has always dreamed of being a professional race car. Sure he's never come in higher than 20th or 21st, but it's still the life he's always dreamed of. He loves the cheering fans and the squealing rubber on asphalt. The only part he doesn't like is the racing part which is probably why he's never come in higher than 20th or 21st place. See Davey's just not competitive by nature. If someone wants to pass him, he lets them. I mean why be rude?"[2]
Gallery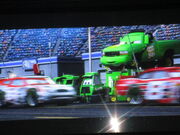 Trivia
In Toy Story 3, the batteries Lotso's gang used for gambling are branded with Re-Volting.
He has the same number as Mac iCar and J.P. Drive.

This error was later fixed in Cars 3, when they changed Revolting's number to 48.

In the 2016, 2019 and 2022 die-cast mainlines, he is referred to as Dave Alternators.

In the 2018, 2020 and 2021 die-cast mainlines, he is mistakenly referred to as T.G. Castlenut, which is actually the name of the veteran in Cars 3.

His name resembles that of the 1992 Daytona 500 champion Davey Allison, who passed away in 1993 at Talladega.
Despite his bio saying he never finished higher than 20th, he actually finished 17th in the Dinoco 400.
He resembles the 1996 version of the Pontiac Grand Prix.
Unlike the other Crown Celestas, which have smaller, thinner builds, Davey has a wider body, similar to that of a Capitol Motors Verve XT.

Notes and references
↑ This name appears in Disney Cars Character Encyclopedia and on the packaging of his die-cast releases since 2020.