Photoshop
These are some photos that I modified with Photoshop.
Mr. Drag, the american muscle car from Chicago! I took this picture from http://danyboz.deviantart.com/gallery/9639451

A beautiful Porto Corsa casino's Painting with watercolors, done by a painter.

A pencil sketch made by an anonymous artist. The drawing was found inside an abandoned hangar. The plane in the picture is Captain Chuck in flight. But it's strange because this plane has never flown.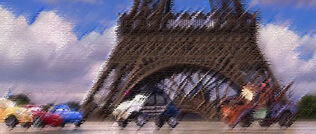 Mater couldn't come back from paris without getting a portrait with craayons, done by a Parisian artist.
Dex Dinoco, as a guest cameo in a famous film, when he was still an actor, before became the owner of the Dinoco Records.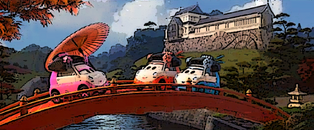 Kabuki Pop-Art: the famous japanese designer drawed a portrait of Tamiko, Okuni and Shigeko in front of the Tokyo Imperial Palace.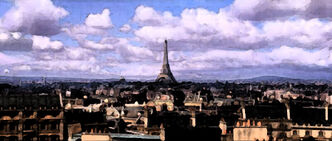 A beautiful painting, done by the good french painter Jé-Peins Tout-Cé. The painting is a panorama of Paris, with the Tour Eiffel on the background.
"Want to keep your photos safe while traveling? No Problem! Now came the new plastic bags WorldPhotos to better preserve your photos. Dispobible of various sizes and qualities. Buy her now! WorldPhotos, best results for your photos ! "
My Gallery
All my favourite images!!!
My favouite pages
All my favourite pages!!!
Drawings
Cars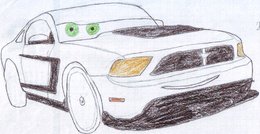 Pat Wheelburn, a Ford Mustang Boss 302. I drawed it tracing the chassis from a magazine and adding all the details. This is a fantasy character, supposed to be my Cars 3 character. He is a car that comes to Radiator Springs to becomes a manager of Lightning McQueen. Pat want to race McQueen in other championships, but...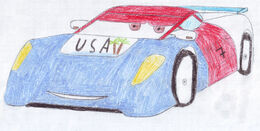 I Love Usa is a famous American race car. He is a 2012 Cartune B-Master 6 (fictional car). I drawed it tracing the chassis of a Ferrari P4 Stradale from a magazine. The I modfied the car. I Love Usa was born in Hawaii. He loves his country and he loves parteciping in all the american races. He started with the Miami 8 Hours, then he went to Le Motor championship. But, after a terrible accident in St. Peterburg, he left this championship. His colors are the US flag's colors.